Starting Wednesday, October 6th we invite you to Connect Groups.
Four Groups: Kids, Youth, Parent & Pastor Study for Adults. See descriptions below.
Optional Dinner: Anytime between 5:15-6:15pm you can choose Chick-fil-A 5 count nugget or chicken sandwich, salad, chips, cookies and water. The meal for $5.00 for the CFA Sandwich and $3.00 for CFA Nuggets. Please reserve your meal with the button below and then we can do a "standing order" for each week afterward.
Study Time: Will begin promptly at 6:15pm and ends at 7:15pm.
Nursery: Available by registration only.
KIDS FALL STUDY
Wednesday Nights • 6:15pm
Unseen: The Armor of God for Kids helps kids learn how to equip themselves to fight life's spiritual battles. This study on Ephesians 6:10-17 uses Bible study and fun learning activities to help kids develop an understanding of God's character, as expressed through Jesus. As the study goes on, kids will see how to put on each piece of armor in practical, tangible ways.
PASTOR'S FALL STUDY FOR ADULTS
Wednesday Nights • 6:15pm
In Morality, respected faith leader and public intellectual Jonathan Sacks traces today's crisis to our loss of a strong, shared moral code and our elevation of self-interest over the common good. We have outsourced morality to the market and the state, but neither is capable of showing us how to live. Sacks leads readers from ancient Greece to the Enlightenment to the present day to show that there is no liberty without morality and no freedom without responsibility, arguing that we all must play our part in rebuilding a common moral foundation.
JARVIS YOUTH FALL STUDY
Wednesday Nights • 6:15pm
Different, by Jonathan Evans, is an exciting new youth Bible Study recently added to RightNow Media. Evans is a noted author and speaker. Currently, he serves as chaplain of the Dallas Cowboys. In this four-part video series, Evans addresses many of the contemporary issues facing youth today, which in far too many cases, negatively impacts their personal identity. He accomplishes this task by walking "students through the parables in Luke to teach what it looks like for God to rule our lives."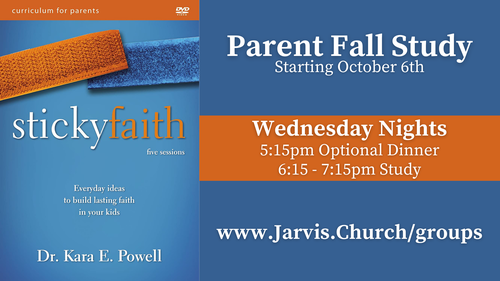 PARENT FALL STUDY
Wednesday Nights • 6:15pm
Sticky Faith delivers positive and practical ideas to nurture within your kids a living, loving faith that lasts a lifetime. Research indicates that almost half of high school seniors drift from their faith after graduation. This study presents both a compelling rationale and a powerful strategy to show parents how to actively encourage their children's spiritual growth so that it will stick with them into adulthood and empower them to develop a living, lasting faith.
CAMILLA TAFT WOMEN'S STUDY
Tuesday Mornings • 9:00am
Postponed Until January 2022
When hard times come and it seems God is deviating from the plan we assume our life should follow, we're much more likely to want to tame God, not trust Him. It's then that we begin to press into our ways and our own timing. No human can carry the weight of being their own god, but so many of us try.

In this 6-session study of 1 & 2 Kings, you can join Lysa TerKeurst in Israel as she honestly reveals the places of distrust in her own heart while exploring the deeply personal applicable Scriptures that will teach us how to truly trust God.
TUESDAY NIGHT LADIES BIBLE STUDY
Tuesday Evenings • 6:00pm
Postponed, Date To Be Announced Soon
All day, every day, an invisible war rages around you — unseen, unheard, yet felt throughout every aspect of your life. A devoted, devilish enemy seeks to wreak havoc on everything that matters to you: your heart, your mind, your marriage, your children, your relationships, your resilience, your dreams, your destiny.

But his battle plan depends on catching you unaware and unarmed. If you're tired of being pushed around and caught with your guard down, this study is for you.
GRIEF SHARE
Mondays at 11:00am or 5:30pm
Grief Share is a friendly, caring group of people who will walk alongside you through one of life's most difficult experiences. You don't have to go through the grieving process alone.

Pastor Rhonda Grant Jordan will lead two online groups starting October 4. You can join her on either Monday mornings from 11:00am-12:30pm or in the evenings from 5:30-7:00pm. You are not alone.
camilla taft women's bible Study
Tuesdays at 9:00 - 11:00 am (Starts January 2022)
6 Week Study - Trustworthy by Lisa Terkeurst
In person at Jarvis TCLC
Led by Rhonda Argenbright
Tuesday Night Ladies Bible Study
Tuesdays at 6:00 pm (Starts Back in October)
In person at Jarvis TCLC Room 111
Led by Jackie Moore
1st & 3rd Tuesdays at 9:30 am
Starting 9/14/21 - In person at Jarvis in Music Suite
Led by Jim Carter
wednesday morning men's group
Wednesdays at 7:00 am
In person meeting at Egg Yolk & online with Zoom.
Led by Steve Stephenson.
Wednesdays 9:15 - 11:30 am (Starts Sept 1)
32 Week Study - Under the Tree of Life
In-person at Jarvis in TCLC
Led by Tammy Perdue
friday morning men's group
Fridays at 7:00 am
In-person meeting at Cyprus Glen ON HOLD
ONLY ONLINE with Zoom
Led by Ed Davis
Adult Sunday School at 10am
In-person in Room 111 in TCLC
Led by Alan Branigan
Douglas Sunday school class
Adult Sunday school at 10am
In-person in Douglas Space in TCLC
Led by Dick & Janey Douglas
Thursdays at 9:30am & Sundays at 3:00pm
Meet in TCLC in Room 111
This intercessory prayer group loves to crochet, knit and sew items for baptized babies, persons sick or in the hospital and for families with loved ones who have passed.
Led by Hilda Alford.
2nd & 4th Saturdays at 8:30am
Jarvis slOw rOllers cycling and walking fellowship that enjoys each other as they bike together around the Greenville downtown area. Gather at Jarvis Parking Lot by playground.
Led by Georgia Mayo & Rick Cannon
Tuesdays at 6:00pm
Come join in to sing and or play acoustical instruments. We cover country, folk and gospel music and hymns. Everyone welcome to participate or just come and listen.
Led by Jonathan Soulen
Mondays 11:00am-12:30pm OR 5:30pm-7:00pm
Meeting Online with Zoom
This group walks alongside and supports those who have lost loved ones.
Led by Pastor Rhonda Grant Jordan
We'd love to hear from you. Fill out the form below to get started.